SLIDE-CDE Members Exclusive!
Get 3 FREE Remittance Transfers!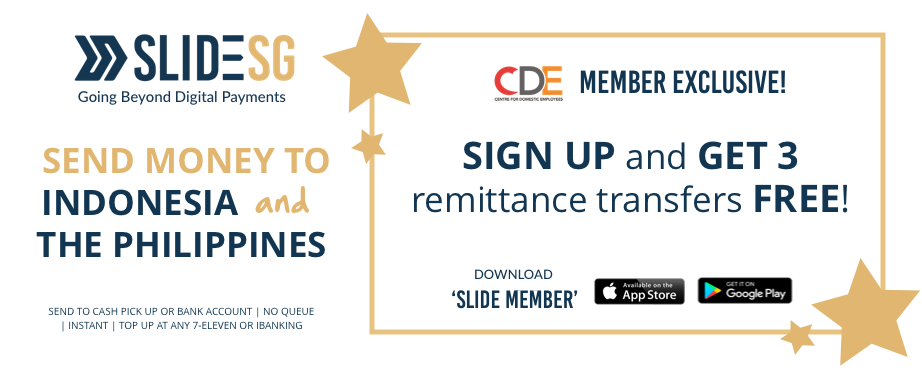 Great news for CDE Members!!
From 1 October to 31 December 2019, simply sign-up with SLIDE and get the first 3 remittance transfers to the Philippines or Indonesia for FREE and save money!
To enjoy the promotion, follow 3 easy steps:
1.Click here to download the app for free and sign-up
2.Message or call SLIDE staff at +65 9617 7488 to set an appointment for one-time video KYC
3.You're all set to start sending money.
In addition, scan & pay for your meals at hawker centres with SLIDE! Isn't that awesome?! Click here (https://slide.sg/get-free-meal/) to know more.
You can top-up the SLIDE wallet at the nearest 7-Eleven store (https://slide.sg/7-eleven/) or enjoy other ways like iBanking to top-up.
Click here (https://slide.sg/top-up-points/) to find out how?
For any further queries, message or call us at +65 9617 7488.
Promotion is subject to terms and conditions. Click here for full terms and conditions.